Become an Affilate
---
Join our affiliate program and earn a commision for every referral who creates a premium pet memorial.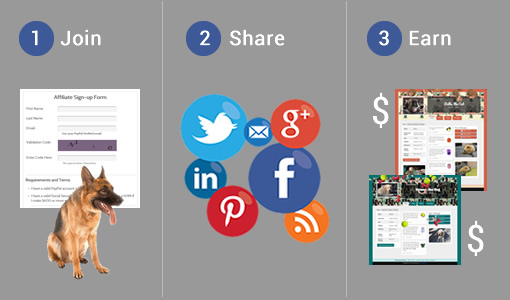 Affiliate FAQ
Who can become an Affiliate?
Pet Bloggers
Grief Counselors
Social Media influencers
Anybody interested in making extra money and uses Social Media frequently
Requirements:
A Verified PayPal Account
Resident of the USA
A valid Social Security Number.
How does it work?
When you sign-up you will be given a unique code and a link.
The link entitles the referrals to a 15% discount
Use our banners or create your own with your unique link and code. Then add it to your site, blog, post, tweet or use any social media your prefer.
If any of your referrals create a Premium Pet Memorial, you get a $2.50 commission.
How much will I get paid?
You get $2.50 for each created Pet Premium Memorial you refer, we will cover the PayPal charges.
A minumum of of three transactions can be redeemed at a time.
Do I need to pay an income tax?
If you make $600 in a given year, we are required by the IRS to report your earnings. We will send you a copy of the 1099 form.
Can I use my discount to create a Pet Memorial?
Yes, as an affiliate you can use your discount code (20% Off) and get $3 back. Your account allows you to create Online Memorials for the following:
PetsMattered (pets.youmattered.com): Up to two (2) Basic Pet Online Memorials.


YouMattered.com: Up to two (2) Basic Online Memorials.


Unlimited Premium Online Memorials for both sites.

The discount and commission only works with PetsMattered.